If you need help identifying birds in North America that are black-colored and have a white belly then you have come to the right place. Get photos, identification help, bird calls, and what you need to know about where you might spot them and at what time of year.
All this information will really help you to identify those black birds with white bellies. So take a look and see if you can spot the bird you are looking for.
12 Black Birds With White Bellies:
1. Dark-eyed Junco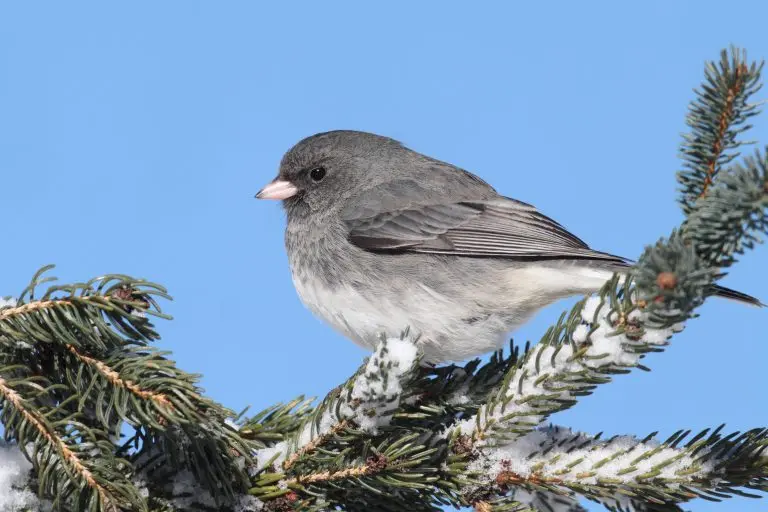 Dark-eyed Juncos are sparrows that are different colors depending on the state. They are generally slate-colored in the east and black, white, and brown in the west.
Junco hyemalis
Length: 5.5-6.3 in (14-16 cm)
Weight: 0.6-1.1 oz (18-30 g)
Wingspan: 7.1-9.8 in (18-25 cm)
Dark-eyed Juncos remain resident all year in northeastern and western US states and the Appalachian Mountains. Those that breed in Canada and Alaska migrate south in winter to the United States.
They can be found in open and partially wooded areas, often on the ground, and are common across the continent.
Dark-eyed Junco Song:
Attract Dark-eyed Juncos to backyard feeders with a variety of seeds such as black oil sunflower seeds, nyjer, cracked corn, millet, and peanuts. Platform feeders or scattered on the ground are best.
2. Black-billed Magpie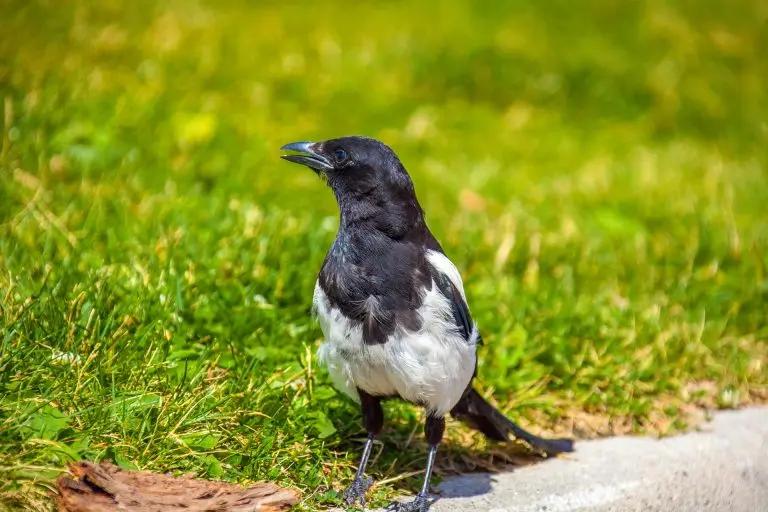 Black-billed Magpies, usually just called Magpies, are black and white birds that are noisy. They have long tails and blue-green iridescent flashes in the wing and tail. Males are up to 25% heavier than females.
Pica hudsonia
Length: 17.7-23.6 in (45-60 cm)
Weight: 5.1-7.4 oz (145-210 g)
Wingspan: 22.1-24.0 in (56-61 cm)
Black-billed Magpies live in northwestern US states and western Canada, and the coast of Alaska. They do not migrate.
You can find them walking on the ground in meadow and grasslands or other open areas feeding on fruit and grain, beetles, and grasshoppers. They have also been known to kill small mammals such as squirrels and voles and raid bird nests for eggs or nestlings and even carrion.
Black-billed Magpie sounds: A series of harsh calls and also a scream.
Nests of Black-billed Magpies are a messy ball-shaped collection of twigs with a neat cup of mud and soft material on the inside. They lay 6 – 7 eggs, and these take around three weeks to hatch and fledge a further 3 – 4 weeks.
You can attract Black-billed Magpies to your backyard with platform and suet feeders with black oil sunflower seeds, peanuts, fruit, suet, millet, and milo.
Fun Fact: A gathering of magpies calling around one of their dead is called a funeral.
3. Spotted Towhee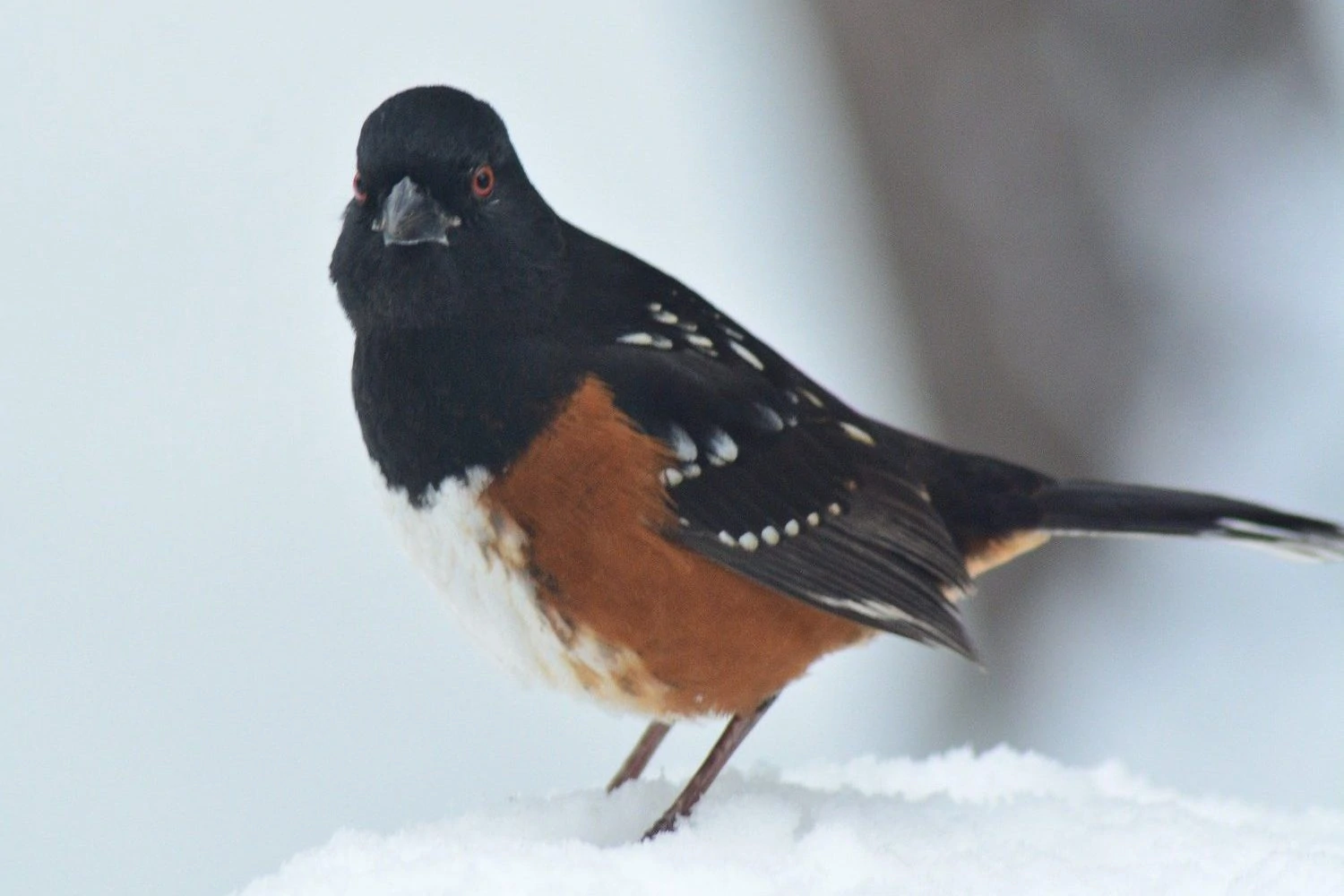 Spotted Towhees are large sparrows that are black on their head, throat, and back in the males and brown in the females. Both males and females have reddish-brown sides, white bellies, and white spots on the wings and back. They have long tails and are about the size of a Robin.
Pipilo maculatus
Length: 6.7-8.3 in (17-21 cm)
Weight: 1.2-1.7 oz (33-49 g)
Wingspan: 11.0 in (28 cm)
Spotted Towhees live in western US states, but those in the interior of the north migrate south after breeding to Texas and surrounding areas.
You can find Spotted Towhees on the ground in dense tangles of shrubs scratching around for insects, including beetles, crickets, grasshoppers, caterpillars, wasps, and bees. They also eat acorns, berries, and seeds.
Spotted Towhee Song:
Attract Spotted Towhees to your yard if you leave overgrown borders, and they will visit platform feeders or ground feeders for black oil sunflower seeds, hulled sunflower seeds, cracked corn, millet, and milo.
4. Eastern Towhee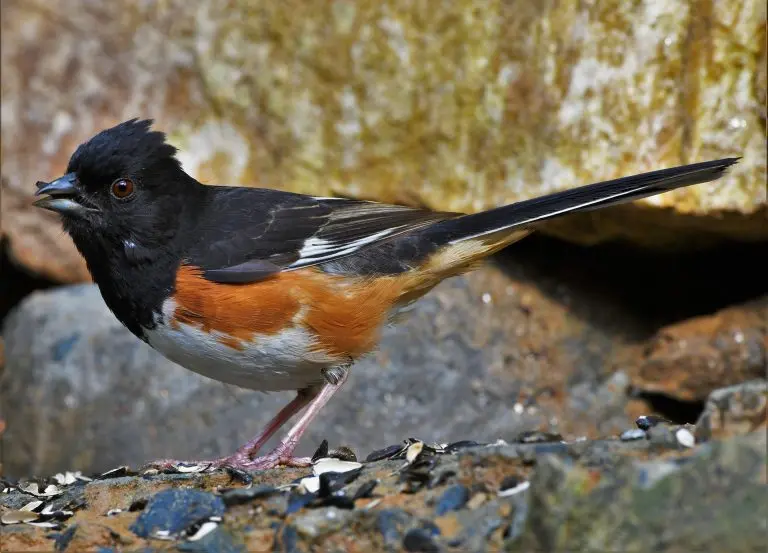 Eastern Towhees are striking large sparrows, about the size of Robin, with a black head, throat, and back, reddish sides, long tails, and a white belly in the males. The females are similar but brown instead of black.
Pipilo erythrophthalmus
Length: 6.8-8.2 in (17.3-20.8 cm)
Weight: 1.1-1.8 oz (32-52 g)
Wingspan: 7.9-11.0 in (20-28 cm)
Eastern Towhees live all year in southeastern US states, but birds further north move south for the winter.
You can find Eastern Towhees rummaging in the undergrowth along the edges of forests and thickets.
Eastern Towhee Song:
Attract Eastern Towhees to your backyard with overgrown borders, and they will also visit platform feeders for black oil sunflower seeds, hulled sunflower seeds, cracked corn, and millet.
5. Downy Woodpecker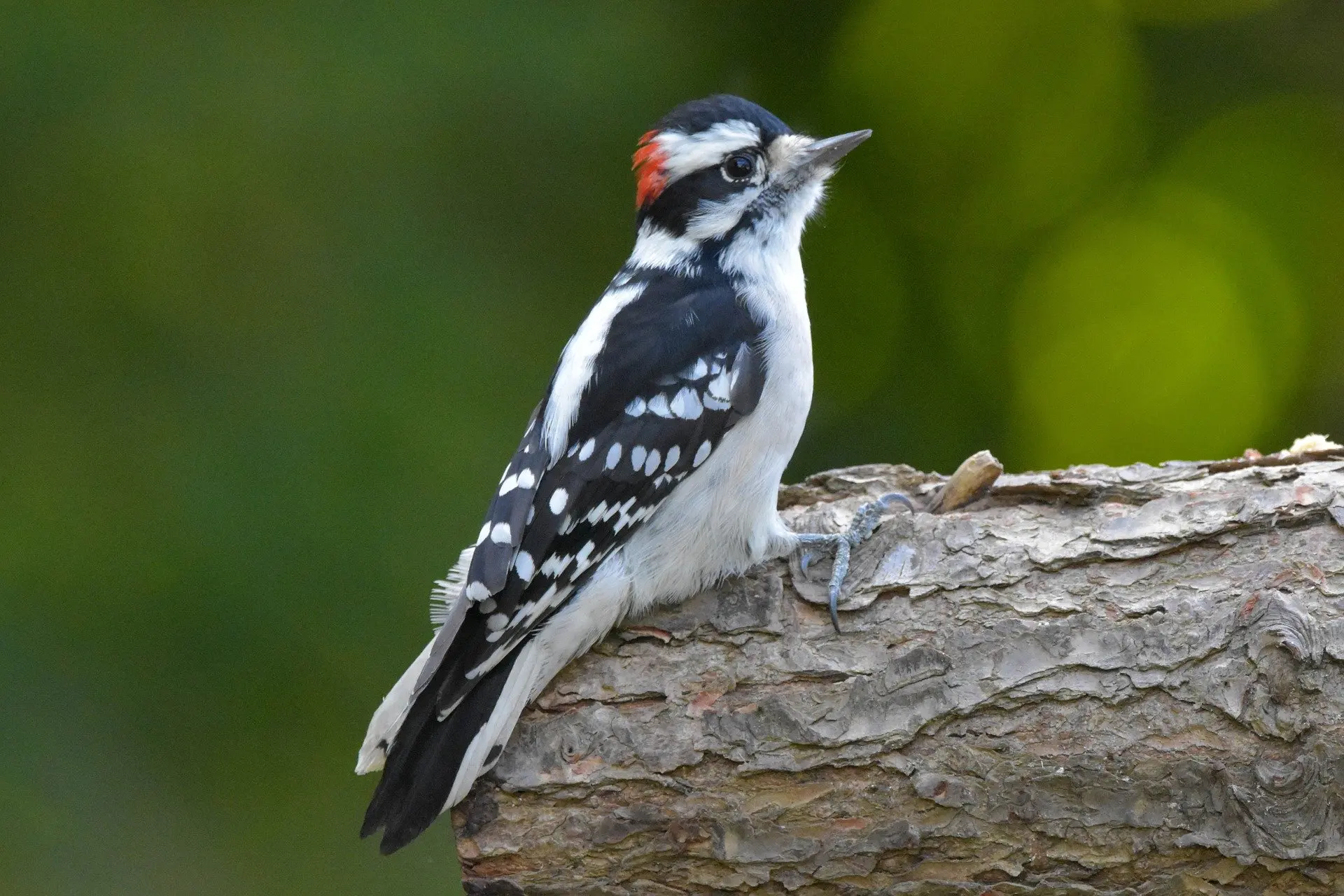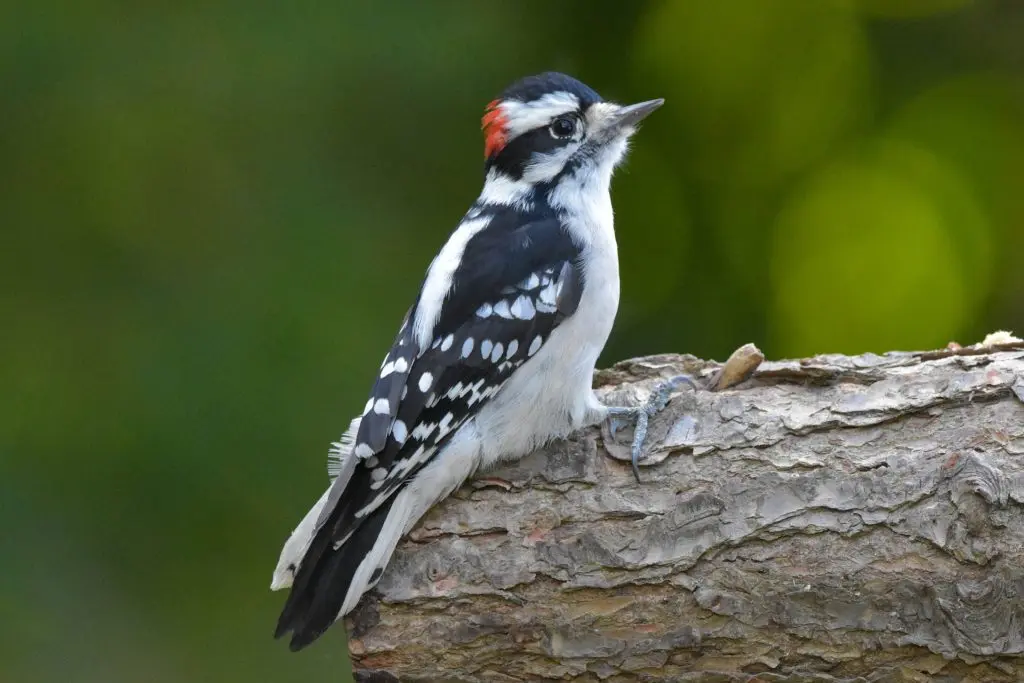 Downy Woodpeckers are small birds that are common at backyard feeders. They are often mixed in with other birds, such as chickadees and nuthatches.
They have black and white coloring with a red patch at the back of their heads. They look similar to the Hairy Woodpecker but smaller.
Dryobates pubescens
Length: 5.5-6.7 in (14-17 cm)
Weight: 0.7-1.0 oz (21-28 g)
Wingspan: 9.8-11.8 in (25-30 cm)
Downy Woodpeckers do not migrate and can be spotted in most states and provinces, except the north of Canada.
You can find Downy woodpeckers in woodlots, along streams, city parks, and backyards, and they eat mainly insects and beetle larvae but also berries, acorns, and grains.
Downy Woodpecker Call:
Attract Downy Woodpeckers to your backyard with their favorite treat of suet, but they will also eat black oil sunflower seeds, millet, and peanuts on platform feeders.
6. White-breasted Nuthatch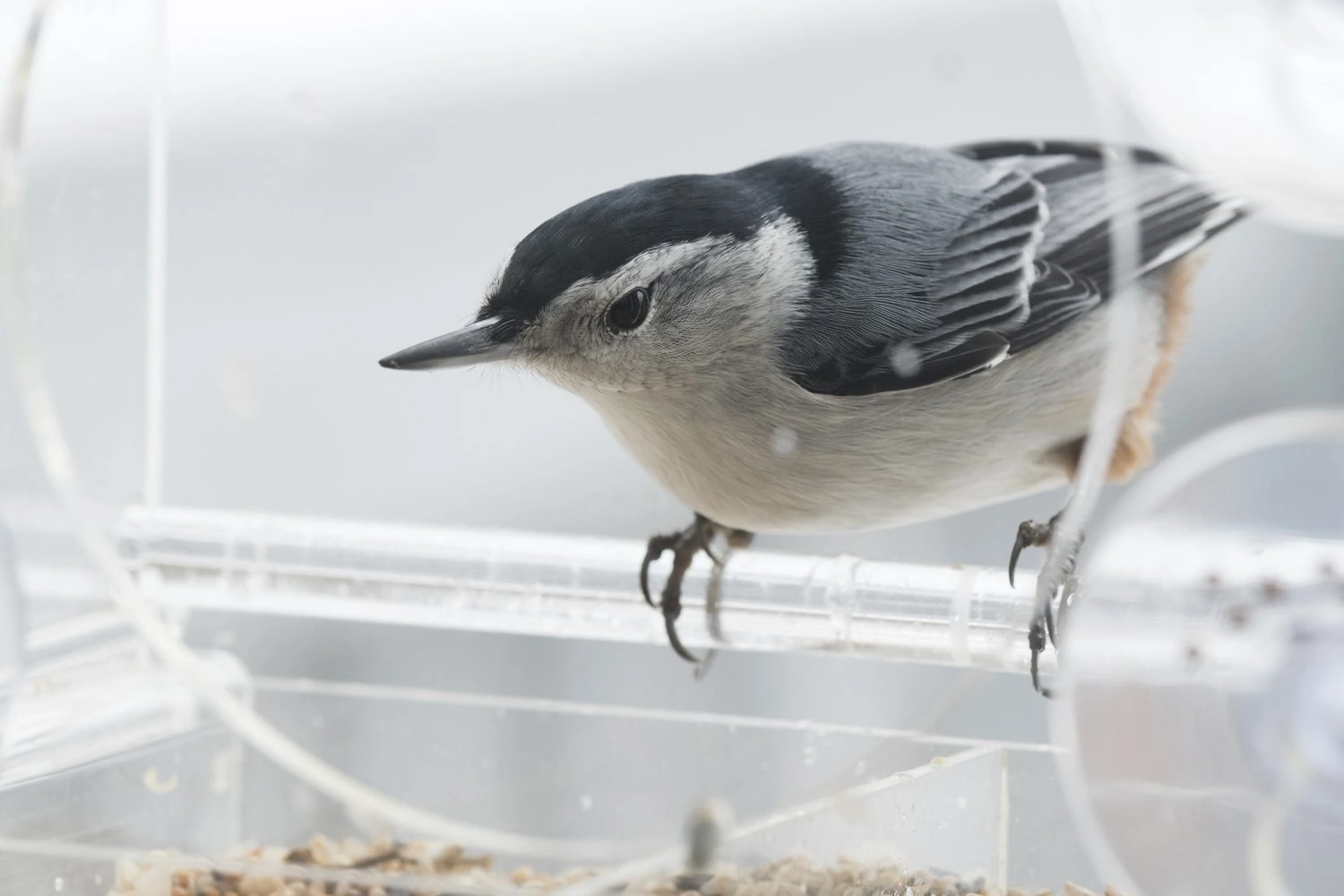 White-breasted Nuthatches are active little birds that are gray-blue on the back and white on the face and belly, with a black cap. They will often have a chestnut color on the lower belly and under the tail.
Sitta carolinensis
Length: 5.1-5.5 in (13-14 cm)
Weight: 0.6-1.1 oz (18-30 g)
Wingspan: 7.9-10.6 in (20-27 cm)
White-breasted Nuthatches live all year in the US and southern Canada.
You can find White-breasted Nuthatches in deciduous forests, woodland edges, parks, and yards with trees or at feeders. They mainly eat insects, including beetles and their larvae, caterpillars, ants, and also spiders.
White-breasted Nuthatches also eat seeds and nuts, including acorns, hawthorns, sunflower seeds, and sometimes corn crops. They jam large nuts and acorns into tree bark and then whack them with their bills to open or 'hatch' them to get the seed out.
White-breasted Nutcracker Call:
Attract White-breasted Nuthatches to your backyard with sunflower seeds and peanuts on tube feeders or suet feeders.
7. Carolina Chickadee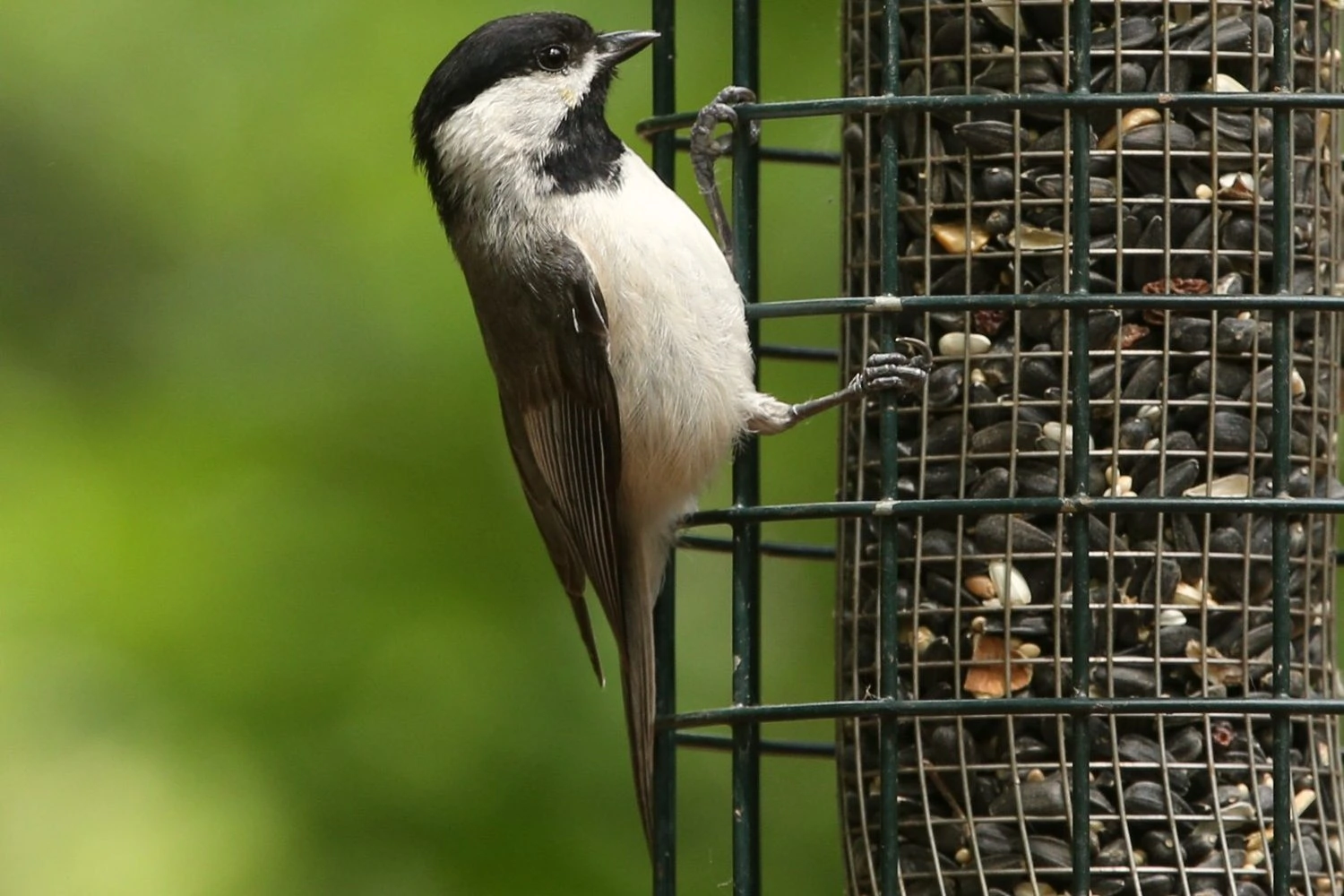 Carolina Chickadees are tiny birds with large heads, black caps and throats, white cheeks and bellies, and soft gray backs, wings, and tails.
They look very similar to the Black-capped Chickadee, and they interbreed where their range overlaps, but their range does not overlap in many places. Also, Black-capped Chickadees have more white in their wings than Carolina Chickadees.
Poecile carolinensis
Length: 3.9-4.7 in (10-12 cm)
Weight: 0.3-0.4 oz (8-12 g)
Wingspan: 5.9-7.9 in (15-20 cm)
Carolina Chickadees live in eastern and southeastern US states all year.
You can find Carolina Chickadees in forested areas, parks, and backyards. In summer, they mainly eat insects and spiders, but in winter, about half of their diet is plant material.
Carolina Chickadee Song:
Nests of Carolina Chickadees are in holes they have made themselves or those originally made by other species or natural cavities. They line the hole with moss and then softer material such as hair. They lay up to ten eggs which take about two weeks to hatch and a further two to three weeks for the young to leave the nest.
Attract Carolina Chickadees to your backyard feeders with black oil sunflower seeds, nyjer seeds, suet feeders, or peanuts. They will feed on most types of feeders, including tube feeders, suet cages, or platform feeders. They will also nest in nest boxes or nest tubes.
8. Barn Swallow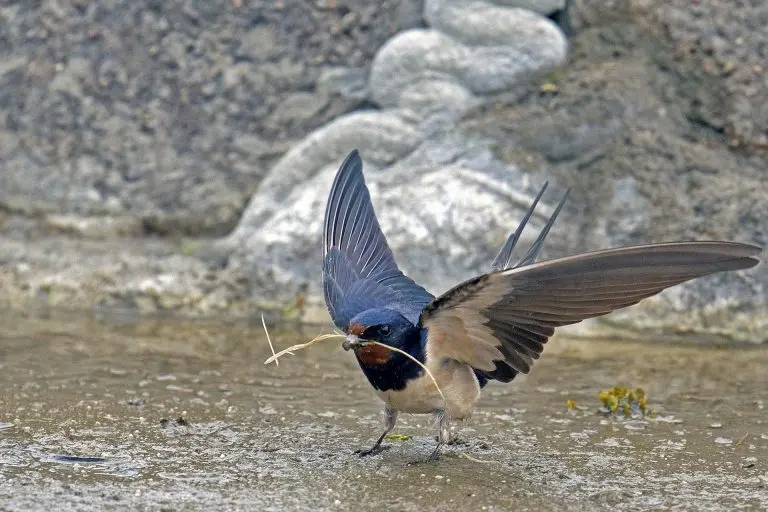 Barn Swallows are small birds with a deep-blue back, wings and tail, and reddish-brown underneath and across the face. Their tail has long outer feathers that give a deep fork. The dark color of their back can make them look black-and-white.
Hirundo rustica
Length: 5.9-7.5 in (15-19 cm)
Weight: 0.6-0.7 oz (17-20 g)
Wingspan: 11.4-12.6 in (29-32 cm)
Barn Swallows breed in Canada and the US before heading to Central and South America. They can be found flying over meadows, farms, and fields looking for insects and usually build mud nests on man-made structures such as in barns.
Barn Swallow call:
Attract Barn Swallows by putting up nest boxes or cups, and they may eat ground-up eggshells on a platform feeder.
9. Hairy Woodpecker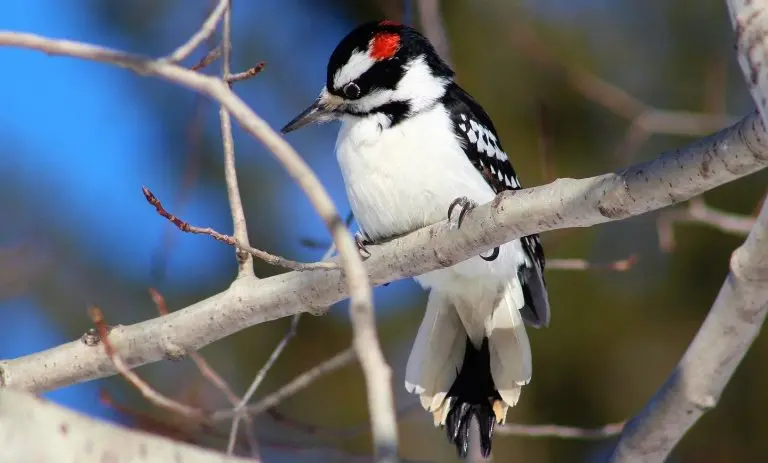 Hairy Woodpeckers are medium-sized woodpeckers with a black and white pattern and a large white patch on their backs. The males have a flash of red towards the back of their heads.
They are visually similar to Downy Woodpeckers but larger and with longer bills. As they are often found in the same areas, it is hard to tell them apart if they are not near each other.
Dryobates villosus
Length: 7.1-10.2 in (18-26 cm)
Weight: 1.4-3.4 oz (40-95 g)
Wingspan: 13.0-16.1 in (33-41 cm)
Hairy Woodpeckers do not migrate and live in all US states and Canada, except the far north of Canada.
You can find Hairy Woodpeckers in woodlands on trunks or main branches of large trees, but they are also found in a wide variety of habitats, including woodlots, parks, and cemeteries. Hairy Woodpeckers' diet is mostly insects.
Hairy Woodpecker Call/drumming:
Attract Hairy Woodpeckers to your backyard with suet feeders.
10. Eastern Kingbirds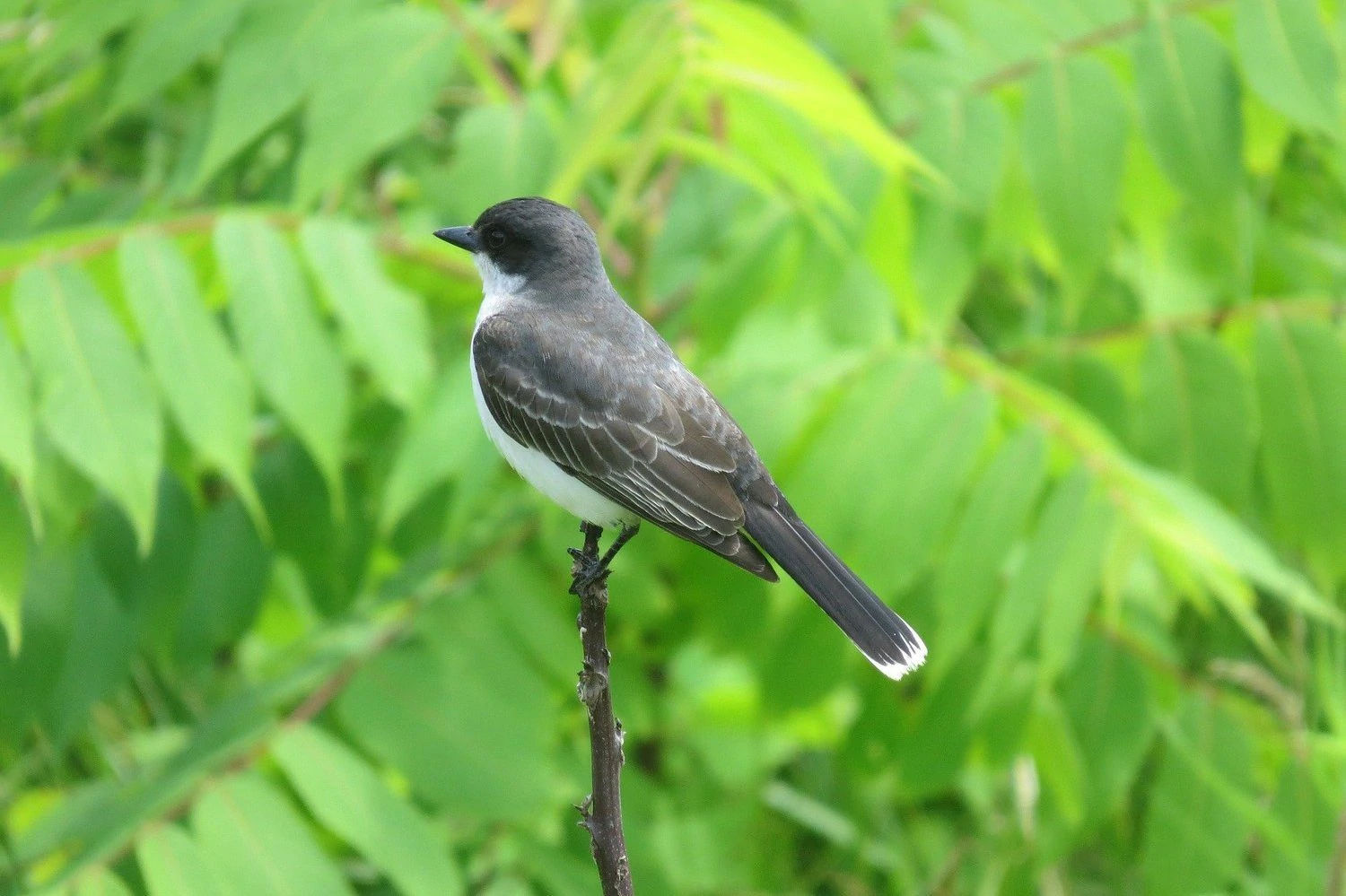 Eastern Kingbirds are medium-sized, large-headed flycatchers that are blackish on the back and white underneath. Their heads are darker black, and they have a white tip on the tail.
They get their name 'king' from the aggression they show each other and other birds when defending their nests. They have a concealed crown of yellow, orange, or red feathers, which they raise when defending themselves or their nest.
Tyrannus tyrannus
Length: 7.5-9.1 in (19-23 cm)
Weight: 1.2-1.9 oz (33-55 g)
Wingspan: 13.0-15.0 in (33-38 cm)
They breed in the US before heading south into Central and South America for winter. They usually breed in fields, orchards, and along forest edges. They can often be found nesting near water such as rivers or lakes.
Eastern Kingbirds catch insects in midair, including bees, wasps, ants, beetles, crickets, grasshoppers, bugs, and flies. They will often perch up above fields waiting for insects to fly past. They will also eat fruit, including serviceberries, cherries, blackberries, and elderberries.
You can attract more Eastern Kingbirds to your yard with native berry bushes and having lots of native vegetation that attracts insects.
11. Black Phoebe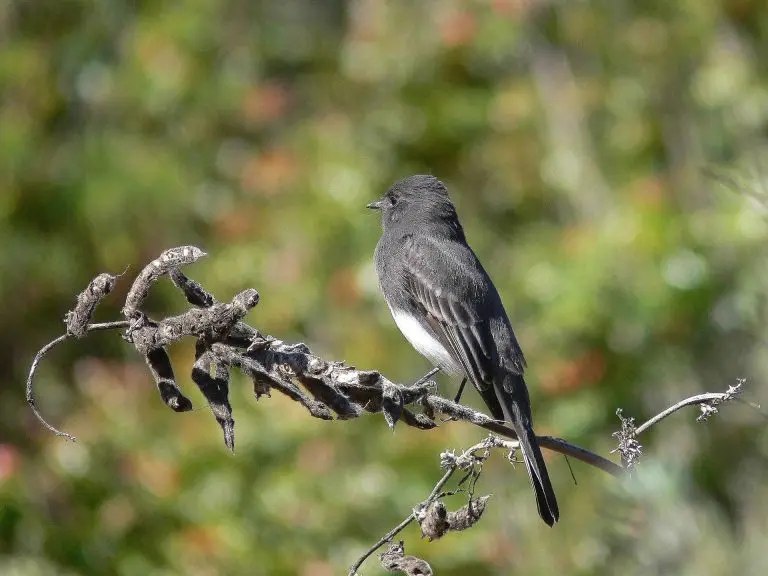 Black Phoebes are small, plump flycatchers that are black on the back, head, and chest and white underneath. They can look gray in some light.
Sayornis nigricans
Length: 6.3 in (16 cm)
Weight: 0.5-0.8 oz (15-22 g)
Black Phoebes are mostly resident across Southwestern States, Mexico, and Central America. Some in the north of this range may migrate south after breeding.
You can usually find Black Phoebes near water, such as coastal areas, rivers, lakes, or ponds. They perch above the ground and wait for insects or arthropods to come along, such as beetles, grasshoppers, wasps, flies, bees, and spiders.
Black Phoebes' song:
Attract Black Phoebes to your yard by adding water features and native plants to attract insects. They may also build a nest under the eaves if there is a source of mud nearby to build their nest out of.
12. Tree Swallow
Tree Swallows are small birds that are blue-green on the back and white below, with darker gray wings in the males. Females are browner in color.
Length: 4.7-5.9 in (12-15 cm)
Weight: 0.6-0.9 oz (16-25 g)
Wingspan: 11.8-13.8 in (30-35 cm)
Tree Swallows spend their summer breeding over much of the US, Canada, and Alaska before migrating to the Gulf Coast, Florida, and Mexico and along the southern border.
They can be seen during migration over southern states and can form huge flocks in the hundreds of thousands.
Tree Swallows can be found in wooded swamps, fields, marshes, and near water that provide the flying insects that they feed on.
To attract more Tree Swallows to your backyard try nest boxes as they readily take to them.