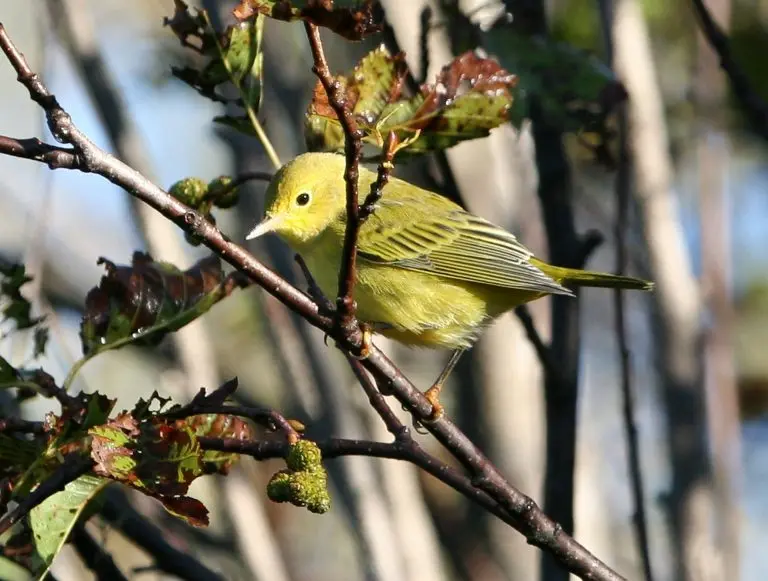 Yellow Warblers are small bright yellow birds with a yellow-green back, and the males have chestnut streaks on the breast. Females and juveniles are not as bright as males and lack the streaks.
Setophaga petechia
Length: 4.7-5.1 in (12-13 cm)
Weight: 0.3-0.4 oz (9-11 g)
Wingspan: 6.3-7.9 in (16-20 cm)
Range
Yellow Warblers migrate a long distance to breed in Canada and the US, except for southeastern states, before heading back into Central and South America for winter. However, they can be seen during migration in southeastern US states.
Habitat And Diet
You can find Yellow Warblers along streams and wetlands in thickets and along the edges of fields foraging for insects, including caterpillars, midges, beetles, bugs, and wasps.
Yellow Warbler Song:
Nests
Nests of Yellow Warblers are in small trees or shrubs and made from bark, grass, and plant material woven together and secured with spider webs to form a cup. It is then lined with softer material such as hair, feathers, and plant down.
They lay up to seven eggs which take around twelve days to hatch and an additional ten days for the young to leave the nest.
Attract Yellow Warblers
Attract them to your backyard with suet, oranges, peanut butter, and plants with berries. Also, plant native plants that attract insects without pesticides or being too tidy! Also, try birdbaths with fountains near secluded planting to provide protection.
Fun Fact:
Cowbirds often lay their eggs in Yellow Warblers' nests, and if detected, the Yellow Warblers build a new nest on top of the old nest and eggs and start again – up to six times!