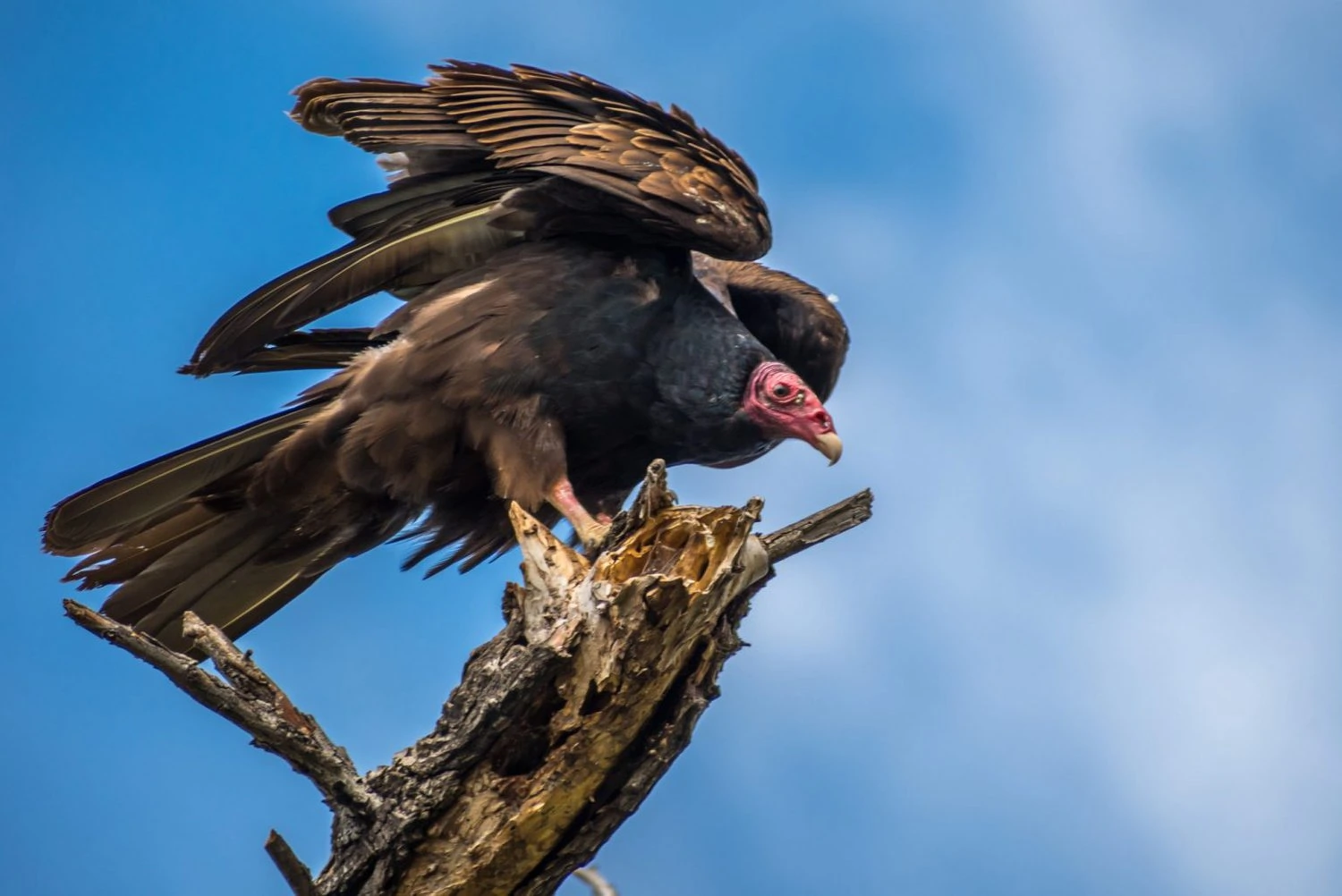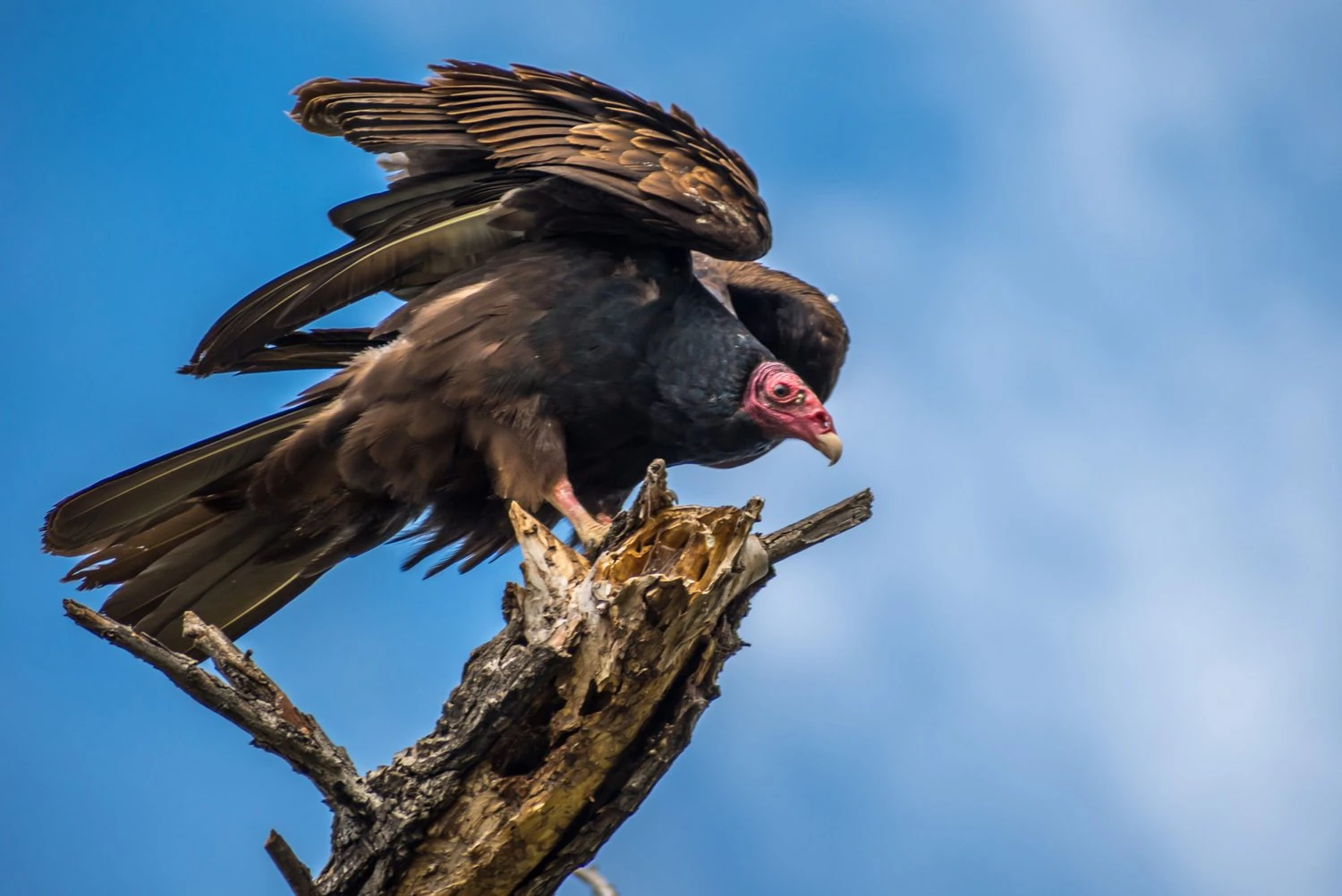 Turkey Vultures are aptly named. They do look like turkeys with their big, bald, red heads and upper necks and brownish-black bodies. However, they are larger than turkeys, and when they're in flight, their broad wings are slightly raised and make a "V".
Under their wings, they have gray coloring, making it seem like they're two-toned. Their eyes are dark brown, and their bills are light-colored.
There are a total of 6 subspecies of Turkey Vultures, and three of them are in North America, which is why they are sometimes classified as "Northern" Turkey Vultures. There are only minor differences among them, mainly tail and wing proportions and color in the underwing feathers.
Cathartes aura
Length: 26 – 32 in (66 – 81 cm)
Weight: 51.2 oz (1451 g)
Wingspan: 68 – 72 in (173 – 183 cm)
Range
Turkey Vultures range across North and South America. They are generally resident all year in South and Central America, but those in Canada and inland Us states migrate after breeding.
Habitat And Diet
You can find Turkey Vultures in a wide range of habitats, but the most common is open and semi-open areas next to woodlands. They need open areas, like grasslands, shrublands, deserts, and wetlands for foraging. They also need forests with high trees for nesting and roosting, and they need middle to high elevations, like hills and mountainous areas, to give them a height advantage for taking flight.
Sometimes, they will also venture into farmlands or pasturelands for foraging and roosting. Human-made structures are also taken over by them when they're in urban areas, but only if they can't find their preferred habitats.
Turkey Vultures' main source of food is carrion or recently dead or decaying animals as long as it hasn't decayed too much. They may feed on roadkill and washed-up fish and may even kill small or weak animals.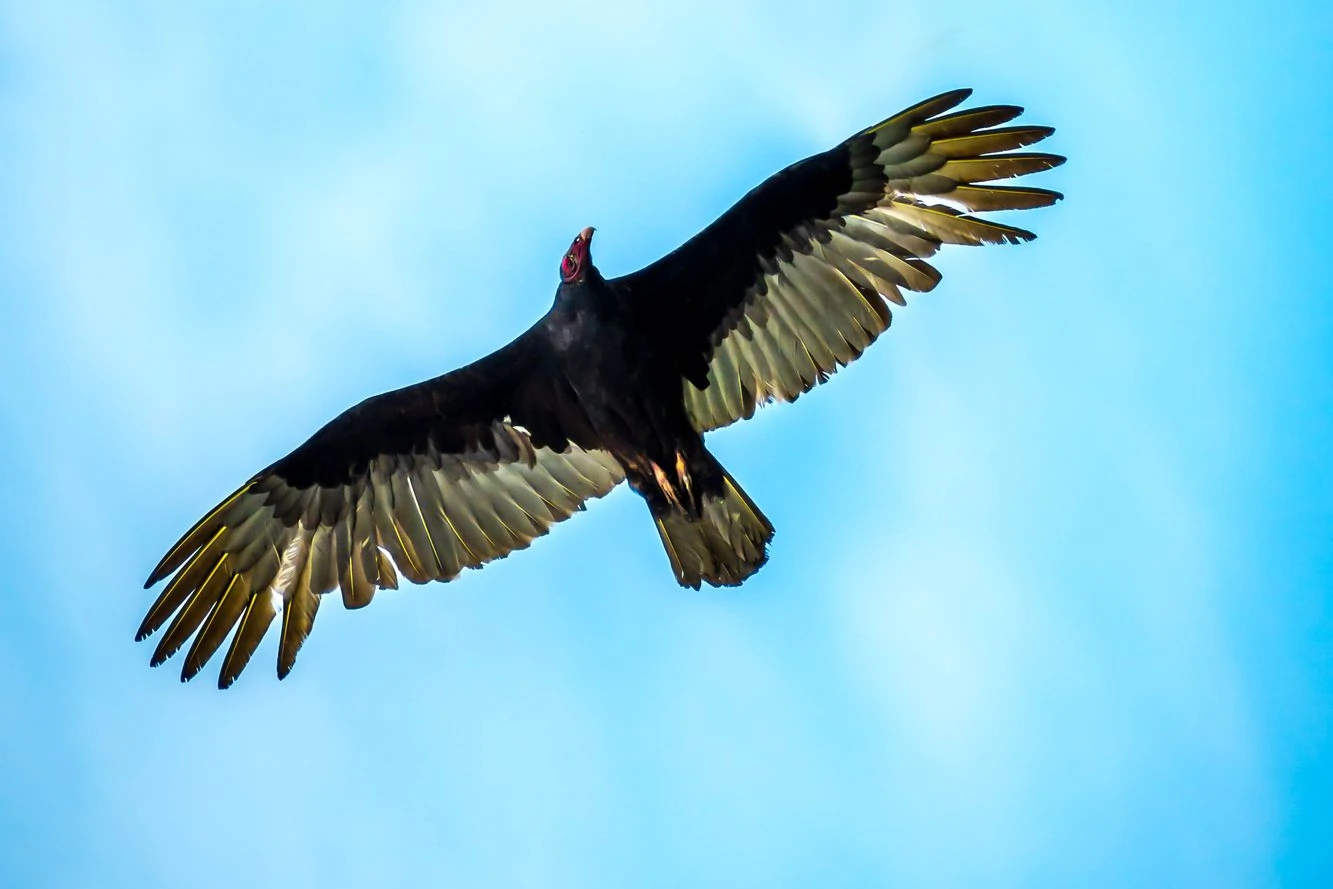 Turkey Vultures Calls:
They can only make a raspy hissing sound but are usually silent.
Nests
Nests of Turkey Vultures are often found in sheltered areas, like crevices in cliffs and old buildings. They may also use hollow trees or logs and dense thickets. However, they don't actually build nests. Instead, the female just lays one to three eggs on the ground at the nesting site.
Incubation takes around thirty-eight to forty-one days and is accomplished by both parents.
Fun Facts:
The sense of smell of Turkey Vultures is quite strong and they're able to detect odors of decaying or dead animals on the ground from great distances.
When Turkey Vultures are threatened or aggravated, they will vomit to provide a distraction and fly away. They may even pretend to be dead.