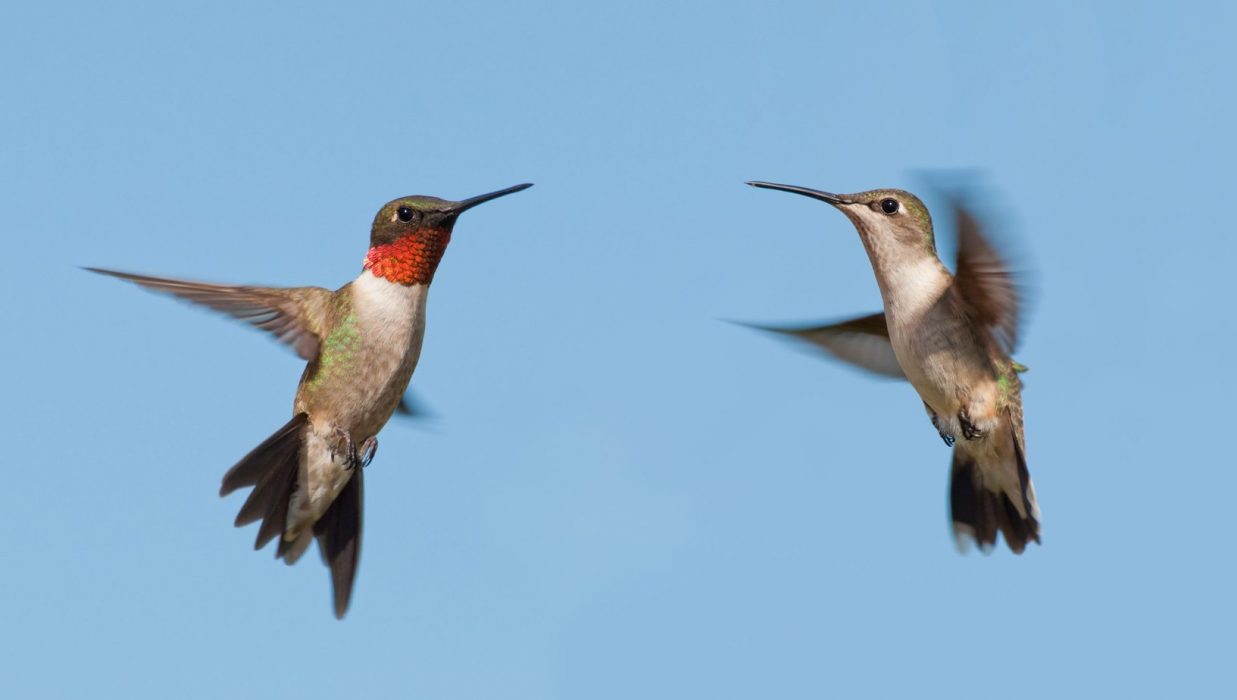 The Ruby-throated Hummingbirds are bright green on the back and crown, with a gray-white underside and the males have an iridescent red throat.
Female Ruby-throated Hummingbirds are green on the back and white underneath with brownish crowns and sides.
Length: 2.8-3.5 in (7-9 cm)
Weight: 0.1-0.2 oz (2-6 g)
Wingspan: 3.1-4.3 in (8-11 cm)
The Ruby-throated Hummingbird is the only breeding hummingbird in eastern North America. They then migrate further south to Central America for winter. Some migrate over the Gulf of Mexico, or some migrate through Texas around the coast.
Range
Ruby-throated hummingbirds start arriving in the United States in February and may not arrive in northern states and Canada until May for breeding. In spring, males usually arrive first up to one or two weeks before the females.
In the fall, Ruby-throated Hummingbirds migrate south in August and September and gather in September along the Gulf Coast of Texas before making the final push south for winter.
Habitat And Diet
These tiny birds zip from one nectar source to the next or catch insects in midair or from spider webs. They occasionally stop on a small twig, but their legs are so short they cannot walk, only shuffle along a perch.
In summer, flowering gardens or woodland edges are the best places to find them. They are also common in towns, especially at nectar feeders.
Ruby-throated Hummingbird Calls and Wingbeat:
Nests
Ruby-throated females build nests on thin branches and make them out of thistle or dandelion down held together with spider silk. They lay 1-3 tiny eggs measuring only 0.6 in (1.3 cm)
Fun Fact:
Male Ruby-throated Hummingbirds can be aggressive in their defense of flowers and feeders. Males do not stick around long after mating and may migrate by early August.