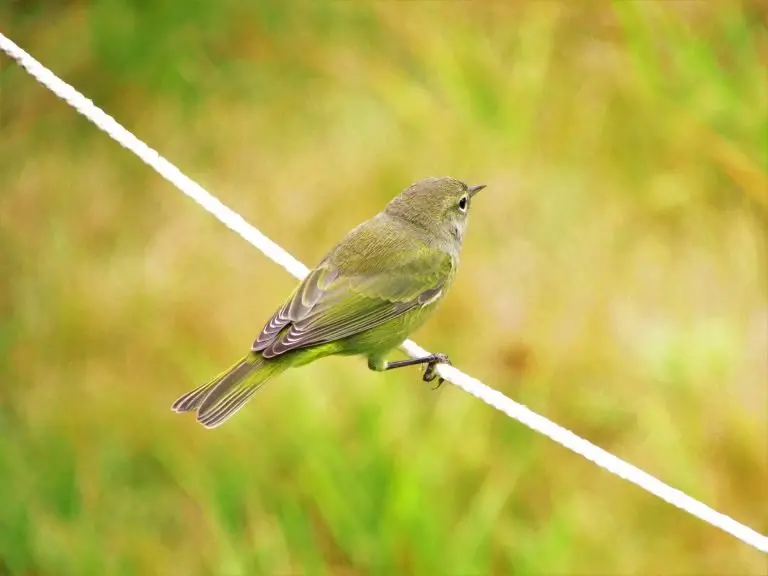 Orange-crowned Warblers are not as brightly colored as other warblers with their yellow-olive coloring, which is more yellow on the Pacific Coast. Their orange crown is rarely seen. Males and females look the same, but juveniles are grayer.
Leiothlypis celata
Length: 4.3-5.5 in (11-14 cm)
Weight: 0.3-0.4 oz (7-11 g)
Wingspan: 7.5 in (19 cm)
Range
Orange-crowned Warblers breed in Canada and western US states before migrating to the Pacific, East and Gulf Coasts, and Mexico. They can also be seen during migration in all US states, except the northeastern.
Habitat And Diet
You can find Orange-crowned Warblers in shrubs and low vegetation, but they breed in open woodland. Their diet consists mainly of spiders and insects such as caterpillars and flies. They will also eat fruit, berries, and seeds and regularly visit backyard feeders.
Orange-crowned Warbler Song:
Nests
Nests of Orange-crowned Warblers are near to or on the ground and made from dead leaves, twigs, and stems and then lined with soft grass and animal hair. They lay up to six eggs.
Attract Orange-crowned Warblers to your yard with suet and peanut butter or hummingbird feeders filled with sugar water nectar.
Fun Fact:
Orange-crowned Warblers will drink from the sapwells of sapsuckers and woodpeckers.