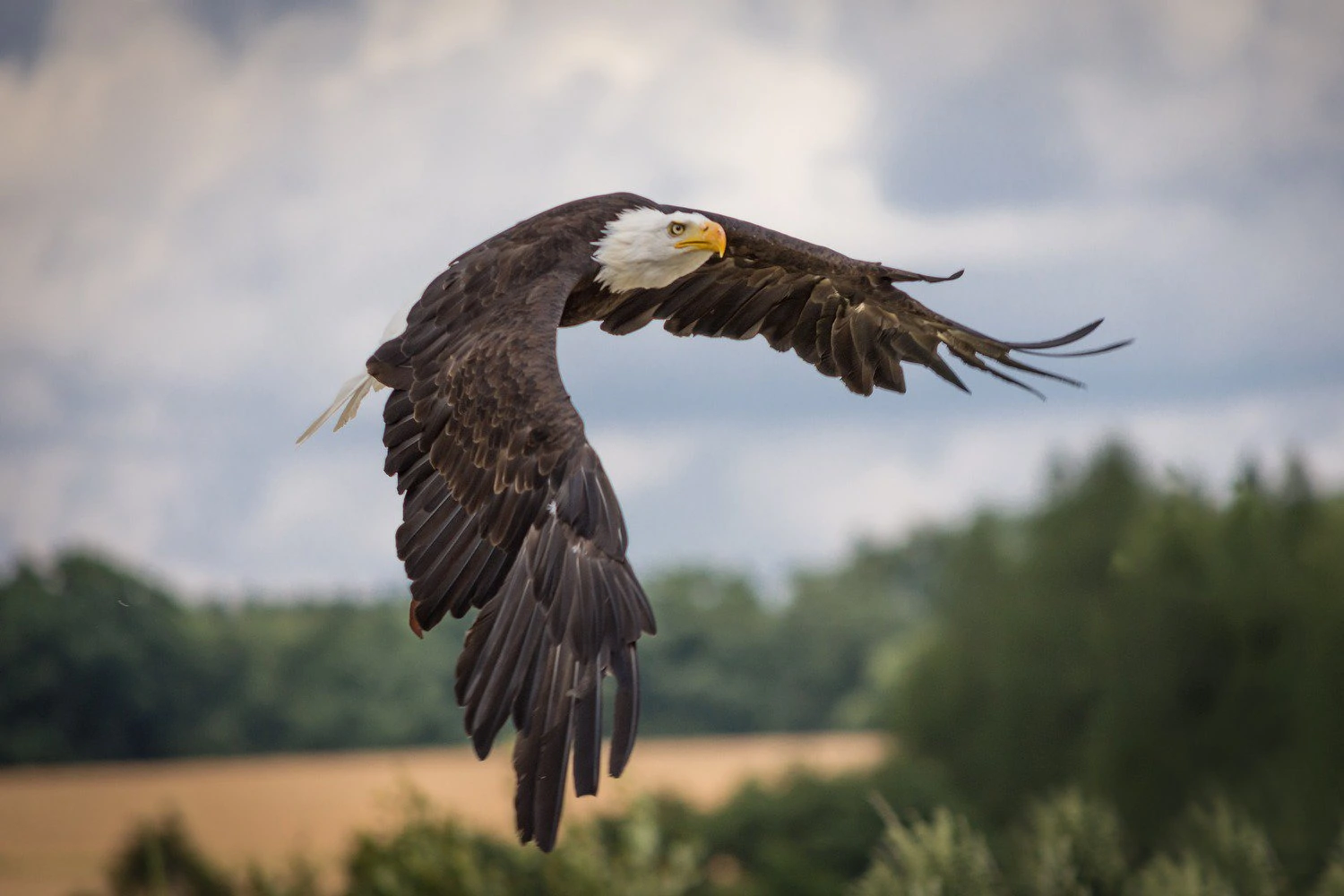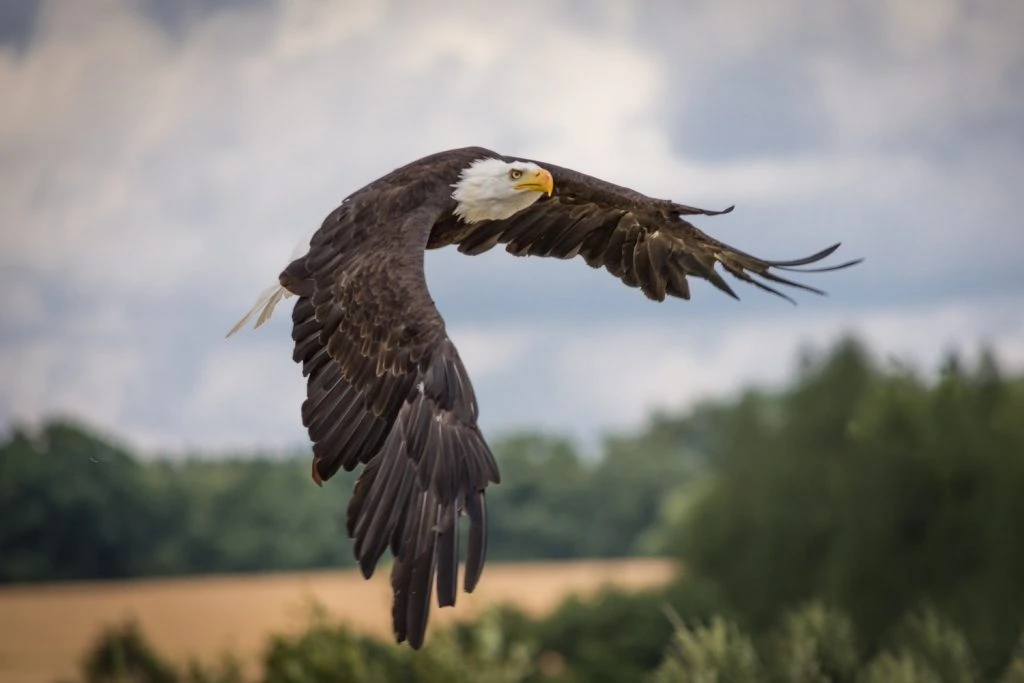 The Bald Eagle is a widely-recognized bird of prey. It has a white head, yellow eyes, and a large, hooked yellow bill. Its body is chocolate brown, and its legs are yellow, with huge talons.
Females look similar to males, except they're about 25% larger. Juveniles have dark brown heads and bodies with variable white mottling or streaking until they reach their fifth year.
Haliaeetus leucocephalus
Length: 34 – 43 in (86 – 109 cm)
Weight: 168 oz (4761 g)
Wingspan: 72 – 96 in (183 – 244 cm)
Range
Bald Eagles breed predominantly in Canada and then migrate to the United States for winter. However, some remain resident all year, especially in coastal regions.
Habitat And Diet
You can find the Bald Eagle, during its breeding season, in wetland environments. Open and large bodies of water with plenty of fish are ideal spots.
When they're nesting, roosting, or perching, Bald Eagles need tall, mature, and large trees for good visibility and have to have an open structure allowing the Bald Eagles to see the forest floor, and must be near water, especially when nesting.
In the winter, Bald Eagles flock to spots with a lot of perches around unfrozen water with plenty of fish. When there's no available unfrozen water source, Bald Eagles will congregate in open habitats with medium-sized mammals like in prairies and meadows.
Bald Eagles are opportunistic feeders and will eat what is available in their environment. Their favorite food is fish, and they prefer large ones, like trout and salmon. They may hunt these fish themselves or steal them away from other birds. Sometimes, they also eat carrion (dead) fish.
They also eat medium to large-sized birds, like ducks, herons, owls, and geese. During winter, bald eagles turn to mammals for their prey when fishing for food is not as lucrative. They will initially target weak, dying, or young prey. They hunt rabbits, squirrels, raccoons, beavers, and deer fawns.
Bald Eagle Calls:
The squeak of the Bald Eagle does not fit its size as they make a rather disappointing high-pitched whistle!
Nests
Nests of Bald Eagles are large and sturdy to be able to withstand their size and weight. They build a stick nest, around 6 feet in diameter and 4 feet high. The male brings the materials such as sticks, grass, moss, and downy feathers, and then the female puts it all together.
Bald Eagles' nests are considered the largest of any bird in North America.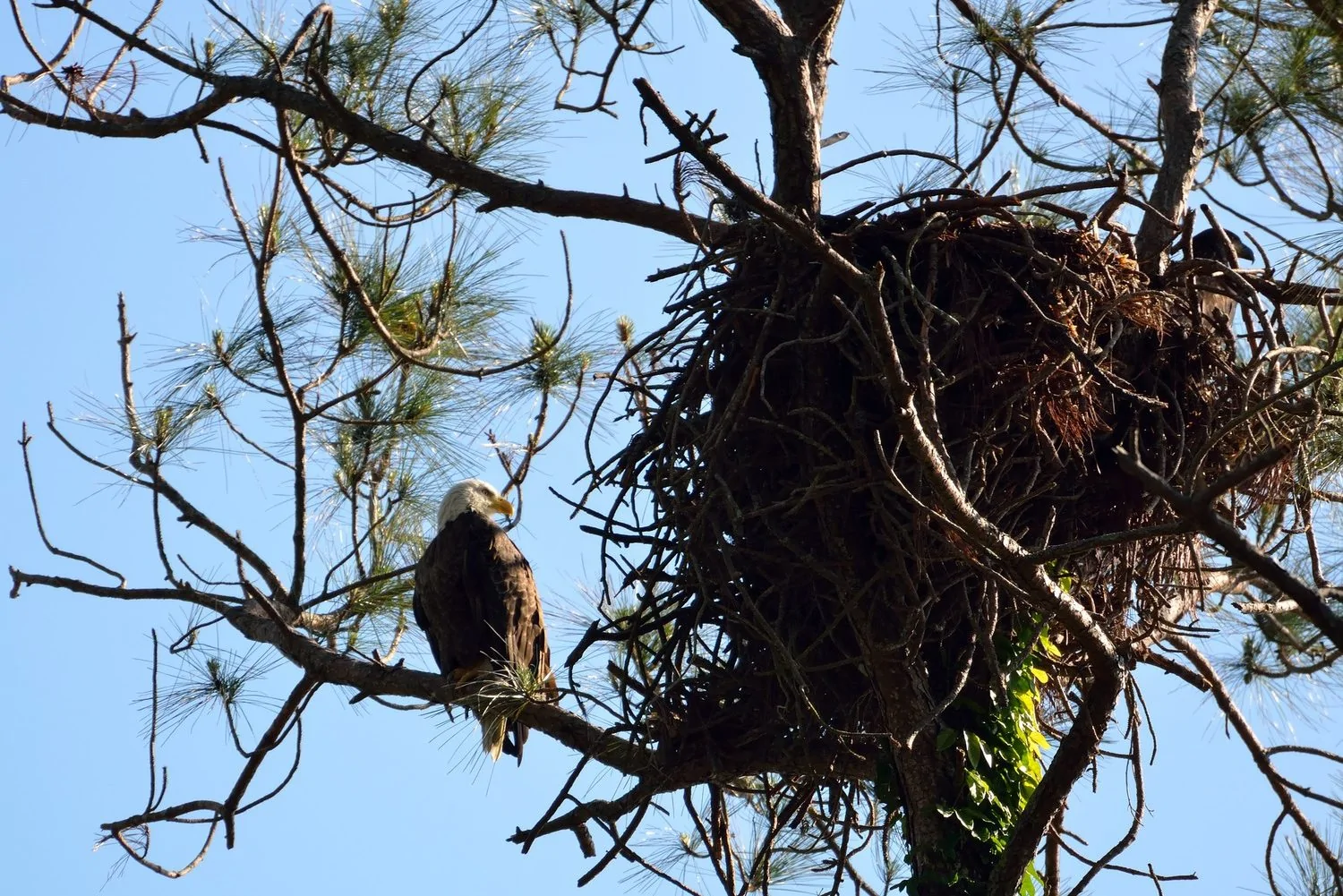 Females may lay one to three eggs per year in the wild. In captivity, they may lay up to seven eggs. The parents take turns in incubating the eggs for thirty-five days. Whoever is not sitting on the eggs gets to hunt for food to feed the other.
Fun Fact:
The Bald Eagle has been the national symbol of America since 1782. It may be named "bald," but it isn't actually bald. The old version of "bald" actually meant "white," referring to its white head and tail.